Positive change for women driven by data
The Gender Index
Entrepreneurship is one of the key economic drivers, through the creation of jobs, products and services. In the UK, 51% of GDP and 99% of all companies are SMEs. However, little is known about the gender composition of these companies, until now. Introducing The Gender Index.
Services
Consultancy
Data & Insights
Web Development
Motion
The Impact
4m+
Female-led companies providing live data.
1st
Time gender disaggregated data is freely accessible for the public.
1
Clear picture of UK company landscape, empowering change.
Our Solution
Tribus is one of the fastest growing, female-led digital agencies in the country. So we were ideally placed to be responsible for all of the digital work that needed to be carried out including: data-visualisation, web development, video production and digital design.
We knew the data had to be stimulating, accessible and accurate. The project had to reveal the data as well as launch The Gender Index as a brand including PR, press roll-out, launch event and ongoing content.
This was all produced in collaboration with The Gender Index steering group, using an agile project approach and a supporting team that integrated with mnAI's team.
There were many complexities to the data visualisation. We integrated into the website the ability to filter across region, sector, age, growth rate and investment.
Usability testing proved the webtool intuitive and accessible and the data is now being used by institutions championing gender equality and female-led businesses including in Natwest Group's Rose Report.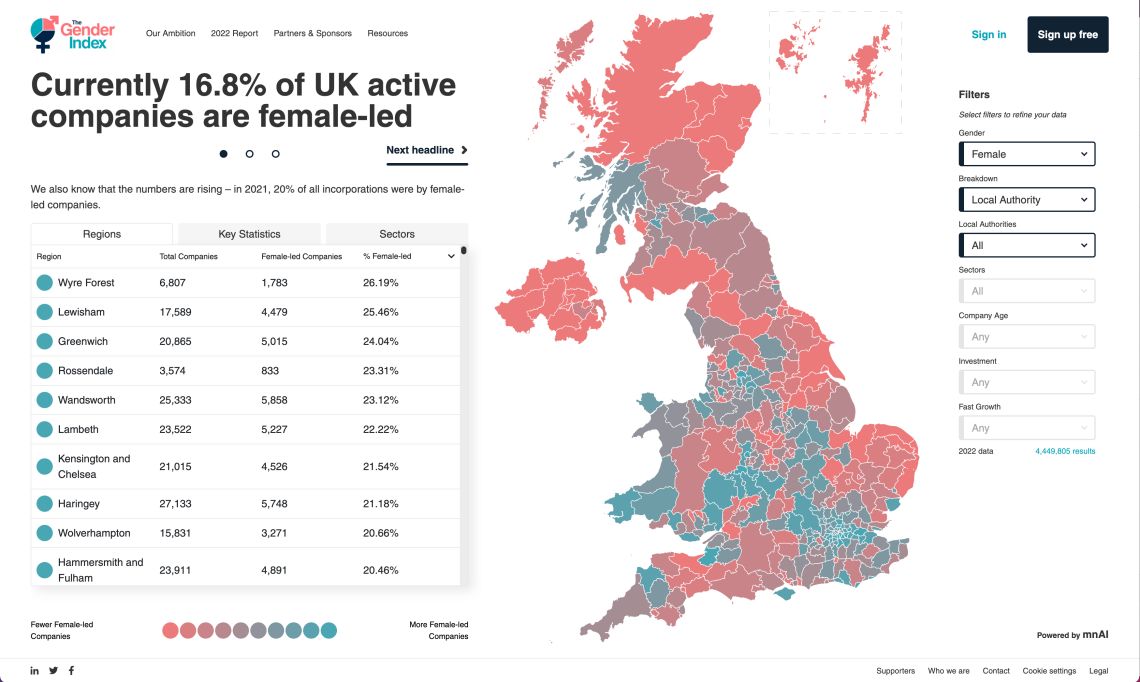 The impact of The Gender Index will be everlasting. The report itself identified that currently 16.8% of active UK companies are led by women, a benchmark by which to now measure change.
As well as producing the report itself, The Gender Index created game-changing opportunities for female entrepreneurs, partnering with organisations such as Natwest to promote investment available and support females to grow their business through their accelerator programmes.
The Gender Index has also received notable coverage in the press and industry leading publications, recently being referenced for its support to female-led organisations by the Women and Enterprise All-Party Parliamentary Group.
Live Data
Users are able to view live data collated from over 4 million female-led companies.
Genuine First
For the first time ever, gender disaggregated information is now freely accessible for the public.
Driving Change
With data providing a clear picture of the UK company landscape, everyone has the tools to drive change.
In the words of our client
"The interactive website was to be the face of The Gender Index and it was vital that we appointed the right team to support us. We quickly established a great rapport and working relationship with Tribus. We have received nothing but praise for the work Tribus did for us and the whole experience of working with them has been incredibly rewarding and great fun."
Jill Pay
— Chairman
The Gender Index