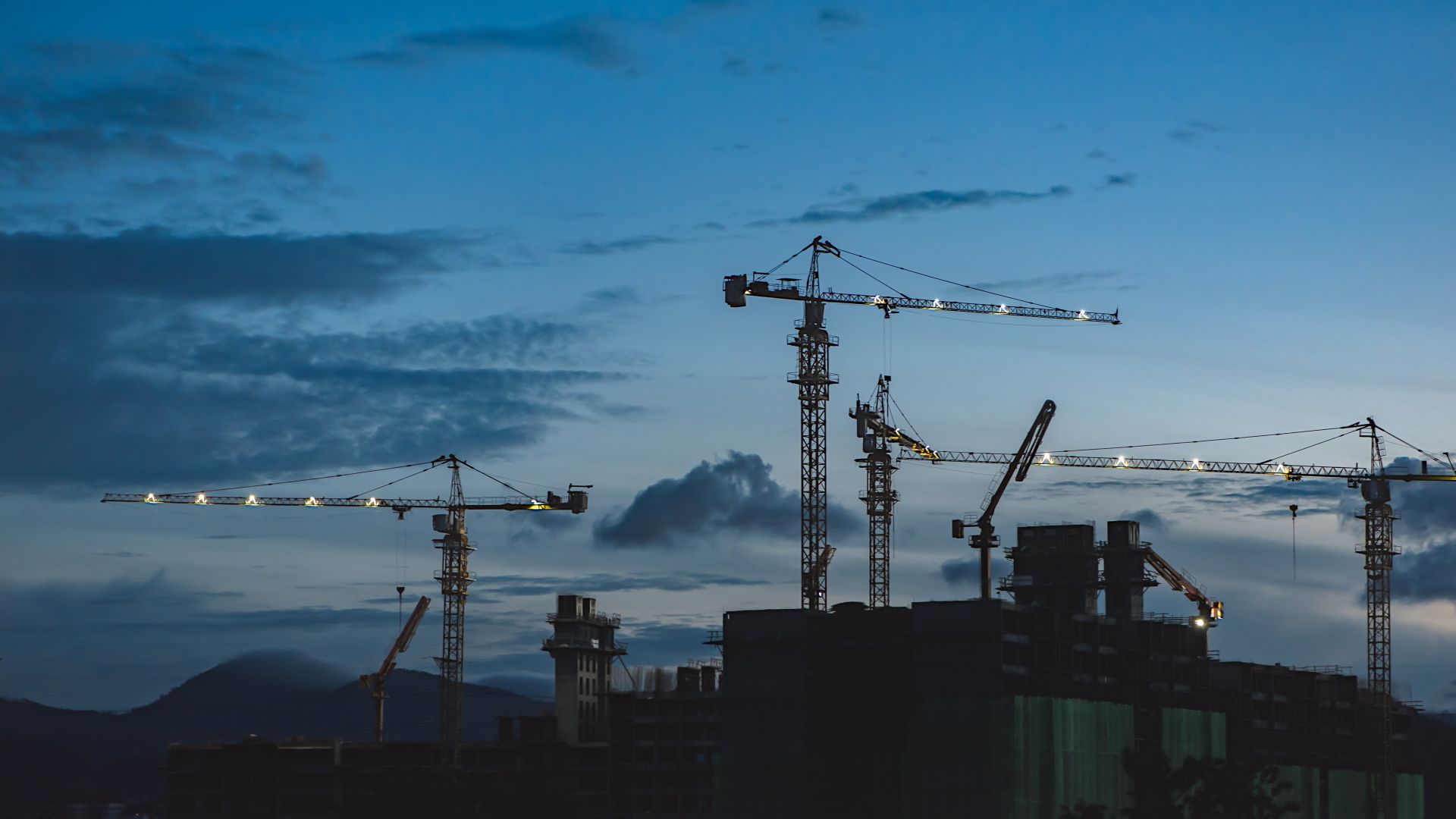 Transforming Risk in Construction
Willmott Dixon
Managing risks associated with construction sites is a complex and critical undertaking. Many of these risks can be managed or mitigatged with better risk management and on-site procedures.
Services
Consultancy
Data & Insights
Web Development
Motion
The Impact
1,800
Actions raised, guaranteeing compliance with legal guidance.
4,320
Pages saved each year with a paperless system.
£20k+
Value of time saved preparing procedures and plans each year.
Our Challenge
We teamed up with Wilmott Dixon, one of the UK's largest construction and fit-out companies, to develop a new platform that would transform how the industry manages risk.
The aim was to make wholesale improvements to management of compliance and environmental procedures. To take a fragmented process and make it simple for everyone involved in a construction project.
The result would create safer workplaces and improved reporting across a range of environmental and social governance initiatives. It would also gather data throughout the lifecycle of a construction project and present it in a real-time dashboard. This would enable better monitoring and identification of issues, alongside greater transparency for better decision-making and risk management.
Our Solution
We created the mi | risk platform to provide an efficient way of tracking risks and obligations throughout the lifecycle of a construction project.
Additionally, our platform guarantees information can be gathered and shared across the entire range of Willmott Dixon's custom business reporting tools to inform better decision-making.
We made it future-proof with CMS functionality that allows rapid adaptation and effective management. This ensures the platform is always up to date with the very latest legal guidance and evidential requirements.
Real-time risk profiling informs understanding of risks from the project start, the current risk based on mitigating actions completed so far, and a residual risk target to aim for.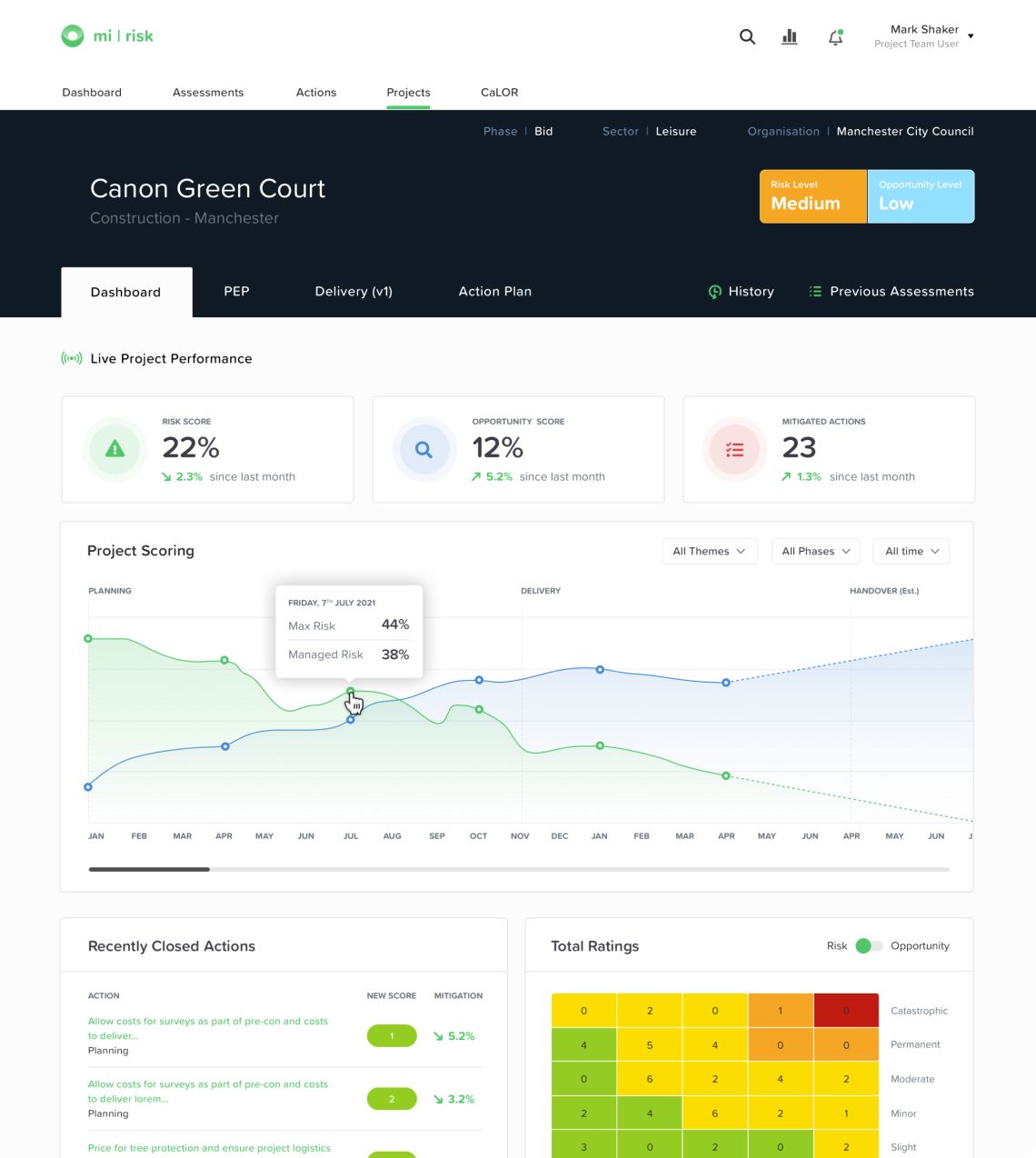 The construction industry had been slow to realise the benefits of digital transformation.
Our partnership with Willmott Dixon and the development of the mi | risk platform is revolutionising how projects are managed across the industry. The result of this digital transformation will be safer construction sites, better management of environmental reporting and vastly improved, real-time management information that will drive better decision-making.
Health & Safety
Over 1,800 actions guaranteeing compliance with legal guidance and promoting improved working practices on site, meaning safer working environments for everyone.
Saving Time
Time saved preparing procedures and plans adds up to equivalent of over £20,000+ per year.
Environmental
A paperless system, with at least 4,320 pages saved from printing each year – equal to 260kg of CO2 per year.
Business Insight
Data sits at the heart of mi | risk. It allows for real-time monitoring of a project to enable health and safety, environmental and governance improvements.
Each project is given a risk profile score that can be improved on to drive best practice. We reworked the scoring mechanics to give a clearer view of the risk profile across a project's lifecycle. Dynamic scoring was developed to show a real-time score and set a target score for each project.
Over time, data will be collated from all projects on the platform to identify common risks and develop a target score that will strengthen mitigation strategies.
In the words of our clients
Nothing on the market rivals this – it will change the way the construction industry reports on risk – leading to better environmental and ecological outcomes for all.
Martin Ballard
— Environmental Manager